2018.04.28. BOBA BOY BUBBLE TEA
ADDRESS
150-5172, Kingsway, Burnaby, BC V5H 2E8
PHONE
(778) 589-2729
HOUR
MONDAY – THURSDAY 12:00 A.M. – 11:00 P.M.
FRIDAY & SATURDAY 12:00 A.M. – 12:00 A.M.
SUNDAY 12:00 A.M. – 11:00 P.M.
WEBSITE
bobaboy.ca
Last Saturday, my friend took me to a newly opened bubble tea place in Burnaby. It called Boba Boy, which is an Ontario-based franchise, is expanding fast in Canada.  There are two locations in the Great Vancouver Area. One is on Kerrisdale and another one is located on Burnaby. The one we went to, is on Kingsway Burnaby. It's 5 – 10 mins walking distance from Metrotown Mall. The location is very easy to find. Boba Boy is famous for its Boba Boy bottles and fresh Handmade tapiocas.
We arrived Boba Boy around 10:30 pm Saturday. There was a huge line up still. My friend told me that this place was always like this, always had lots of people no matter how late it is. The interior of Boba Boy Burnaby location, which is the same as Kerrisdale, has a modern design.  There are some tables for two and a lounge area in the back with some larger tables. Since it has already been so late (almost done) for the day, it was not very clean. Inside the store was very noisy, chaos and overwhelmed. The line was moving fast. After waiting about 15 mins, we finally got a chance to order our drink. Since it was just opened, there were no many selections for us to pick. I ordered lowest cals drink in the menu – Original Tapioca Honey Green Tea. My friend had Taro Tapioca milk tea with high cals. Both of us choose Boba Boy bottles which are tall, reusable containers with screw on caps that are great for on-the-go. About another 10 to 15 mins passed, we gotta my drinks. Then, we had a problem to get a special straw for our bottles. It took our three times tries to get the right longer straws for our drink. There is a small helpful tip for everyone that the Boba bottle has a special, longer straw so don't grab the wrong one meant for regular size. Finally, We could drink our bubble tea. Both drinks were not very sweet, which was great. I enjoyed them.  It was our first time trying out Boba Boy. Hopefully, we will come back again when they have more drink flavors coming out.
MENU 
LOGO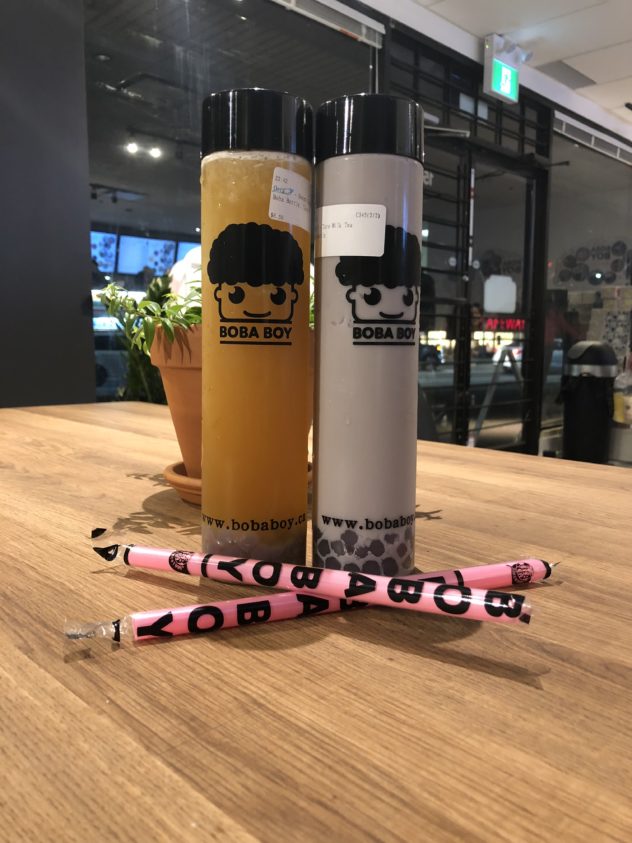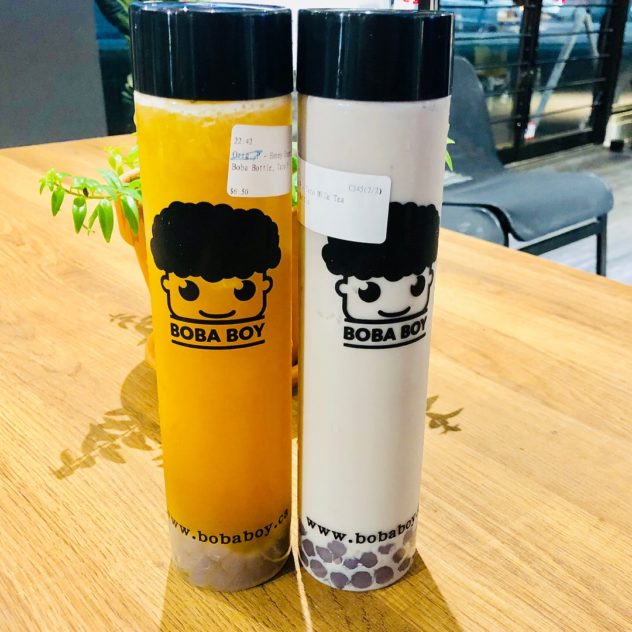 BUBBLE TEA
Food

Service

Atmosphere

Cleanliness

Price (1Expensive to 5Cheap)