SUSHI HIRO JAPANESE RESTAURANT
ADDRESS
727 5 Ave SW, Calgary, AB T2P 0N2
PHONE
(403) 233-0605
HOURS
MONDAY – FRIDAY 11:30 AM – 2:00 PM; 5:00 PM – 10:00 PM
SATURDAY 5:00 PM – 10:00 PM
SUNDAY CLOSED
WEBSITE
https://www.zomato.com/calgary/sushi-hiro-japanese-calgary
Sushi Hiro Japanese Restaurant is a casual Japanese restaurant, which located on 5th Ave Southwest Downtown Calgary. It is a medium size of the restaurant, but the location of the restaurant is not very easy to find. It mainly serves sushi, bento boxes, and kitchen entrees.
My friend and I had a late lunch at Sushi Hiro Japanese Restaurant. We arrived at the restaurant around 1 pm. Even though it was weekdays, the restaurant was still very busy. But, we had no problem to get a table. After we sat down, the server came to us and brought drinks and menu to us. The menu was very simple, but there were no many selections and no pictures. We had very hard time to order our lunch. The server was very friendly and helpful, who helped us.
We ordered $9.50 Chicken Teriyaki and $16.50 Nigiri Sushi special to share. After we ordered the food, our food came out the kitchen very fast. The Chicken Teriyaki was in the large portion and came with a salad with house dressing and a bowl of rice. The taste of the chicken teriyaki was very different from other restaurants. There were large pieces of chicken and the taste was very awesome. The salad was in Japanese style so delicious. It was a great deal for two people to share. The Nigiri Sushi Special was not that excited, which were fresh raw fish on sushi rice, included 8 pieces nigiri sushi and 2 pieces maki roll. Very easy, simple, and expensive. If two people share this dish, I would like to recommend people to order more stuff to eat.
In summary, both my friend and I love Chicken Teriyaki more. The prices of the food were expensive in this restaurant. But, it was very nice to try different Japanese restaurant in Calgary.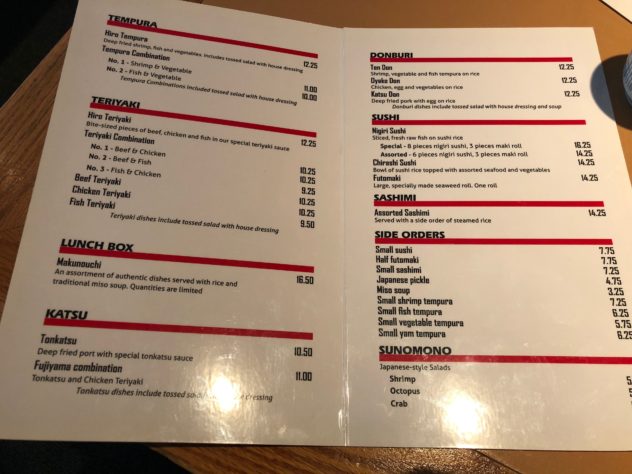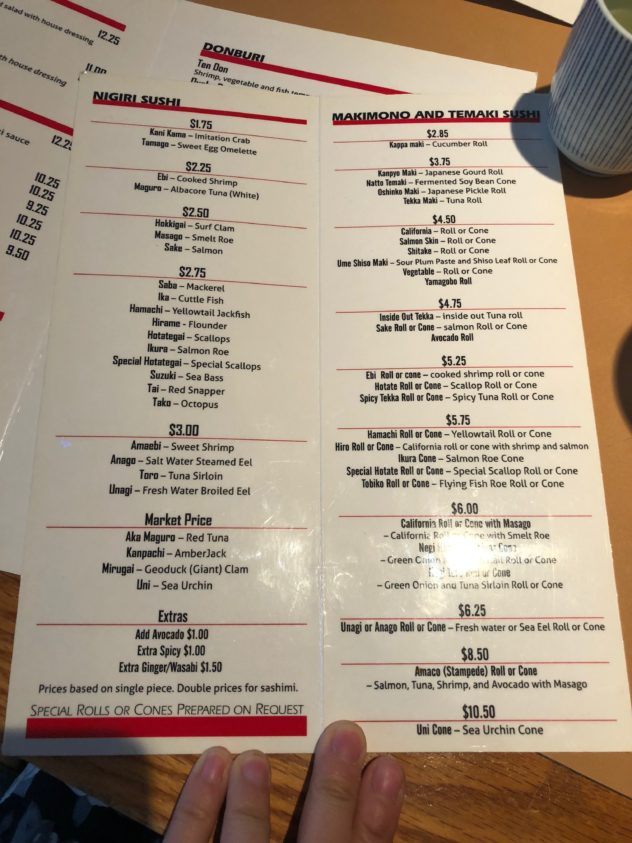 MENU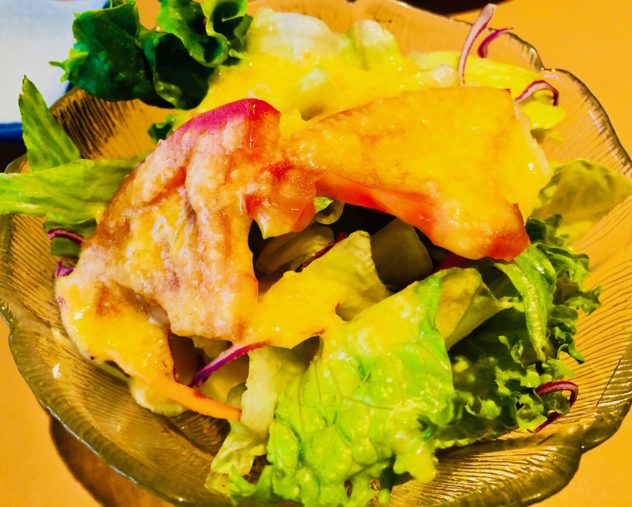 JAPANESE STYLE HOUSE GREEN SALAD

NIGIRI SUSHI SPECIAL

CHICKEN TERIYAKI
Food

Service

Atmosphere

Cleanliness

Price (1Expensive to 5Cheap)