ADDRESS
501 North Rd, Coquitlam, BC V3J 1N7
PHONE
(604) 931-8284
HOURS
MONDAY – THURSDAY 11:30 AM – 10:00 PM
FRIDAY & SATURDAY 11:30 AM – 10:30 PM
SUNDAY 11:30 AM – 10:00 PM
WEBSITE
https://californiasushi.ca/
California sushi  is one of my favourite Japanese sushi restaurants in Great Vancouver area. My boyfriend and I always went there for dinner when we were in Vancouver before. At Sushi California has a wonderful atmosphere created by the interior and by the courtesy of our welcoming personnel. There are 3 locations in the Great Vancouver area. We always had dinners at its downtown location.
20180504, I went back to Vancouver to visit my friends. My friends treated my Sushi California for dinner. We ordered food to go. We ordered Dynamite Roll (Lettuce, Cucumber, Avocado, Massago, Prawn Tempura, Mayo) $4.50, California Roll (Cucumber, Avocado, Crabmeat, Mayo) $3.25, BC Roll (BBQ Salmon Skin, Crabmeat, Cucumber, Lettuce, Masago, Mayo, Unagi sauce) $3.50, Spicy salmon sashimi $12.95, and Chicken Teriyaki $9.50 to go. All the sushi rolls were very freshly made with different sources. They were all very tasty and delicious. Spicy salmon sashimi is my most favourite dish in this meal. Very fresh. Large portion of food.
Besides the taste of the food, The prices of food in Sushi California were very reasonable. Cheap + Delicious. I believe all the customers will joy their dineout in Sushi California. Strongly recommend to eat at Sushi California.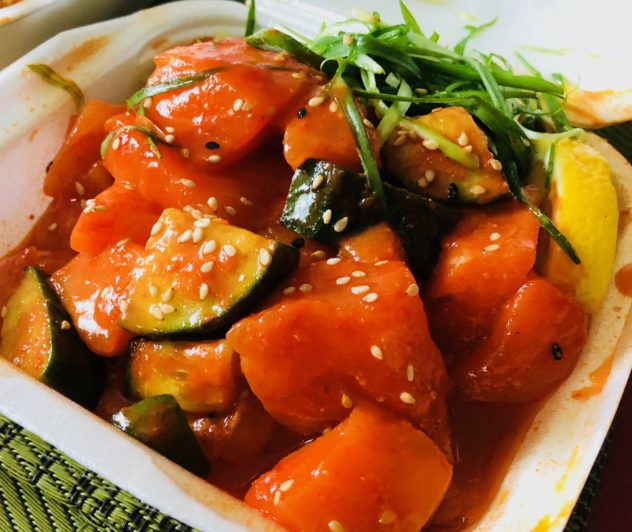 Spicy salmon sashimi $12.95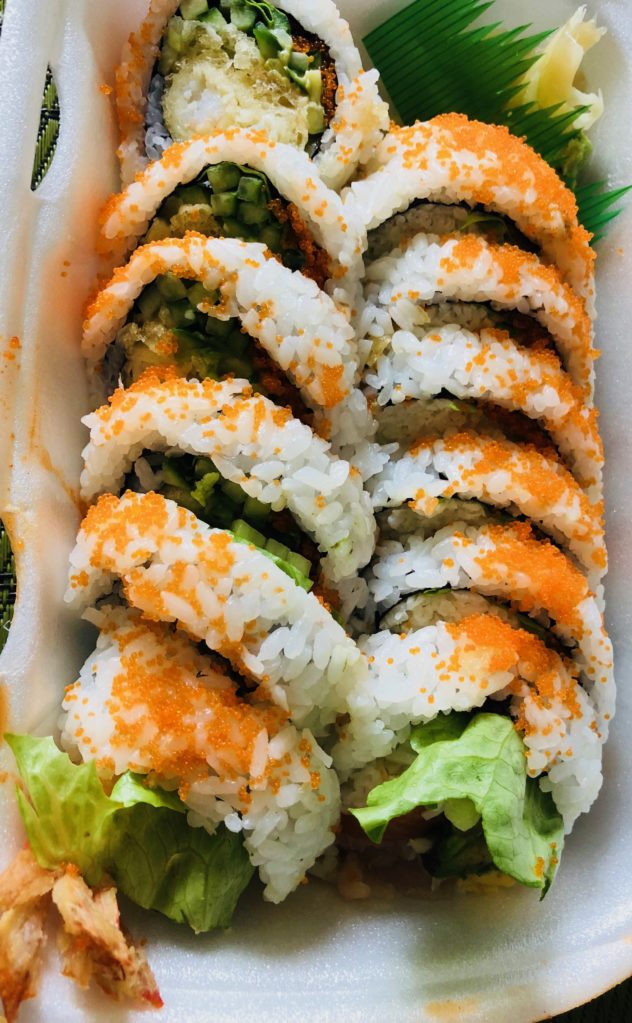 BC Roll (BBQ Salmon Skin, Crabmeat, Cucumber, Lettuce, Masago, Mayo, Unagi sauce) $3.50

California Roll (Cucumber, Avocado, Crabmeat, Mayo) $3.25

Chicken Teriyaki $9.50
Food

Service

Atmosphere

Cleanliness

Price (1Expensive to 5Cheap)