ADDRESS
4600 130 Ave SE, Calgary, AB T2Z 0C2
PHONE
(403) 726-9196
HOURS
MONDAY – SUNDAY 12:00 PM – 10:00 PM
WEBSITE
http://www.marbleslab.ca/
Marble Slab Creamery is one of my favorite Ice Cream stores. When I was in Vancouver before, I always had ice cream from this store. The price of ice cream was a little bit expensive, but it was filling and tasty, which was totally worth the price.
After moved to Calgary, we had Marble Slab Creamery at the Chinook Mall once. There is a location on 130 Ave SE Calgary, which is very close to my place. May 20th, after our dinner, we went to this location to have a dessert.
It is a small location. There only two tables inside the store. We arrived the place at 7 pm. It was empty, not busy at all. We got inside the store and waited for a server to take the order. There were about 2 workers working outside and 3 workers inside the kitchen. They saw us, but Nobody talked to us. The two people who worked at the front were doing their own things. They were 100% ignored us. We stood there and waited about 5 – 10 mins. One guy who worked at the front had to ask someone from the kitchen to help us. It was very horrible customer service ever. We quickly took the order and left the store. The ice cream tasted fine. Just its customer service was terrible. Never go back to this location.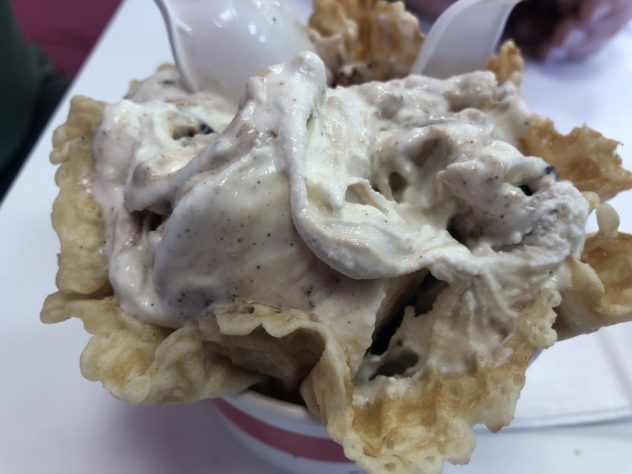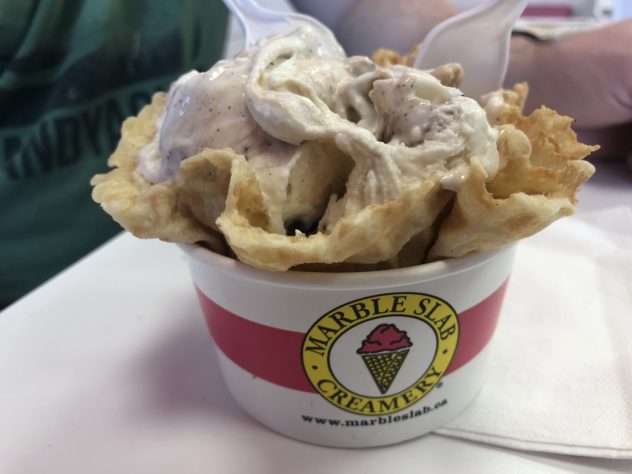 ICE CREAM
Food

Service

Atmosphere

Cleanliness

Price (1Expensive to 5Cheap)