2016.11.06. JAPADOG AT MCARTHURGLEN & VANCOUVER
RATING
Food 5.0/5.0
Service 5.0/5.0
Ambience 4.0/5.0
Price $$
Address 1064 Templeton Station Rd, Richmond, BC V7B 0B7
Phone number  (604) 247-2234
Hours of operation
Monday – Saturday 11:00 am – 9:00 pm
Sunday 11:00 am – 6:00 pm
Website http://www.japadog.com/
Japadog has various locations in the Great Vancouver area.  The locations that I have always been, were located at the Mcarthurglen Outlets in Richmond and Downtown Robson Street. Both of them 5 – 10 mins away from the SkyTrain station. The locations are very convenience for everyone. Japadog in these two locations are different from other locations, instead of the food trucks, those two locations have indoor ambiance for people to eat in. The restaurant always had a line up till almost out the door. The price range of the Japadogs is around $5-8. You can also add a combo with a drink and fries, which will cost you $4 – $5 more. I have ordered the Terimayo and Ebi Tempura hot dog with my cousin at Robson location. My boyfriend and I have ordered our hotdogs with one additional combo and an order of takoyaki and it came to almost $30. The hotdogs were tasted great. If you go traveling in Vancouver, you should definitely try to have fancy hotdogs at Japadog. Even though it's little expensive, it's really worth the prices.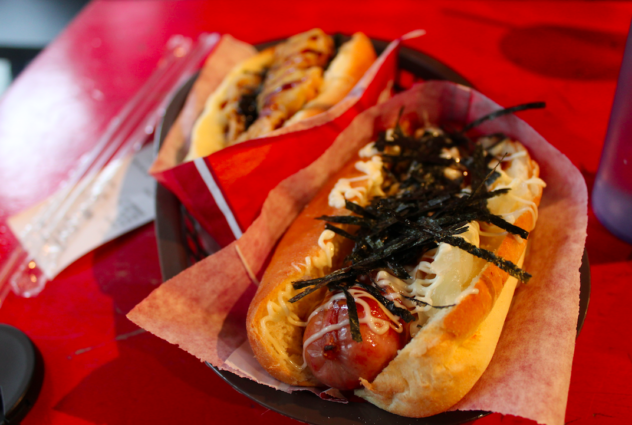 TERIMAYO  $6.93
JAPADOG's Signature Hot Dog: Teriyaki sauce, mayo and seaweed make for a winning combination.
EBI TEMPURA $5.23
JAPADOG's first tempura dog! The crunchy shrimp tempura on rice makes a perfect combination.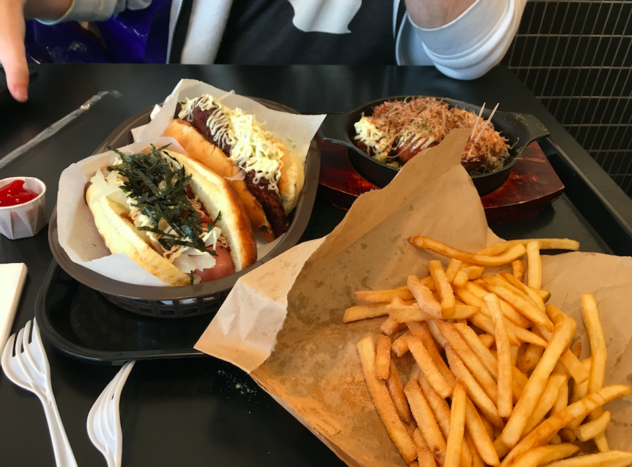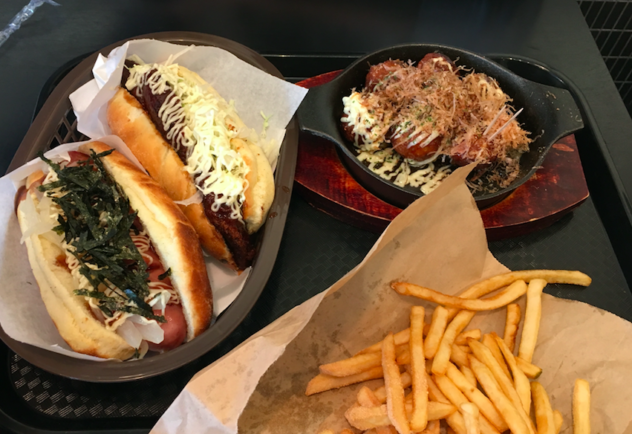 TERIMAYO  $ 6.93 and TONKATSU $6.18
with combo drink and shaked fries $3.95   + Takoyaki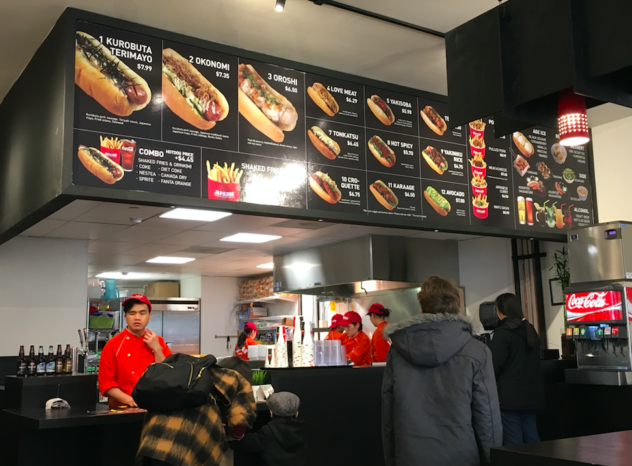 Nice Ambience
Japadog McArthur Glen