My boyfriend and I had Kurumucho Taco on Thursday night. It was our first time having food at this place. We were not very like this place. Kurumucho is a Japanese style Taco restaurant. Since it has a great review on Google, my boyfriend wanted to take me to this place before, but we did not get a chance until last Thursday. This place serves healthy and organic food. It is a small restaurant. Inside the restaurant is very small and narrow. There are only few tables for group of 2 or 4. The menu is very fancy. Each order has its picture, which is very convenience for customers. We ordered Spicy Salmon Sushi Taco and Meat free ground beef taco. Both Tacos came out of the kitchen at the same time. The spicy Salmon Sushi Taco was made by Wild socyeye salmon, multigrain sushi rice, tempura seaweed taco shell, organic avocado, cucumber, organic spring mix lettuce, spicy sauce, soy garlic sauce, sesame seeds, kizami nori on top. The taco looked very pretty designed, but the taste of Spicy Salmon Sushi Taco was not good. There were no any taste and spicy in this taco. There were only 5 piece salmon inside the sushi taco. The rice was super hard to eat. We only ate the meat and vegetable and left rice. Meat free ground beef Taco was disappointed too. The meat part was OK. It was very small. We spent about $16 in total. We were still very hungry. We do not like this place. Expensive. Not good taste.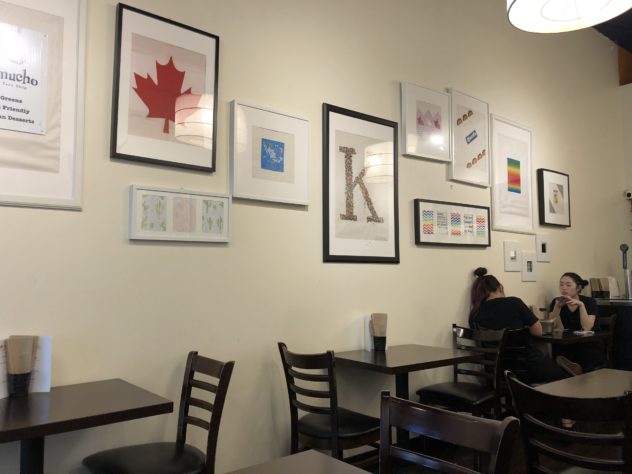 INTERIOR

MENU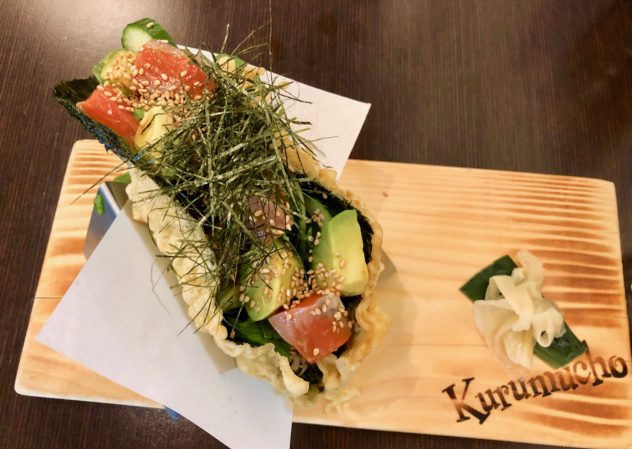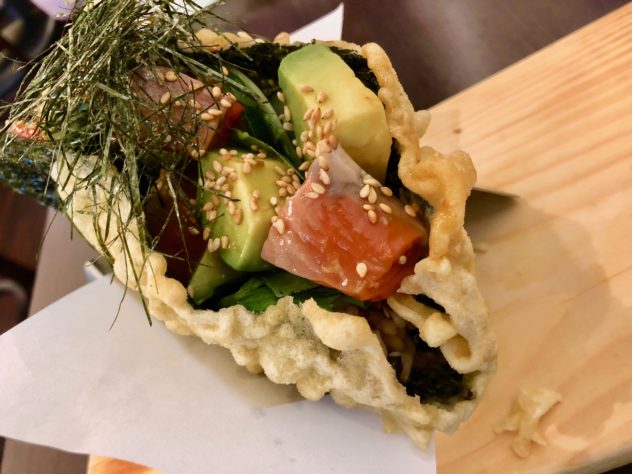 SPICY SALMON SUSHI TACO $7.75
Wild Socyeye Salmon, Multigrain Sushi Rice, Tempura Seaweed Taco Shell, Organic Avocado, Cucumber, Organic Spring Mix Lettuce, Spicy Sauce, Soy Garlic Sauce, Sesame seeds, Kizami Nori on Top.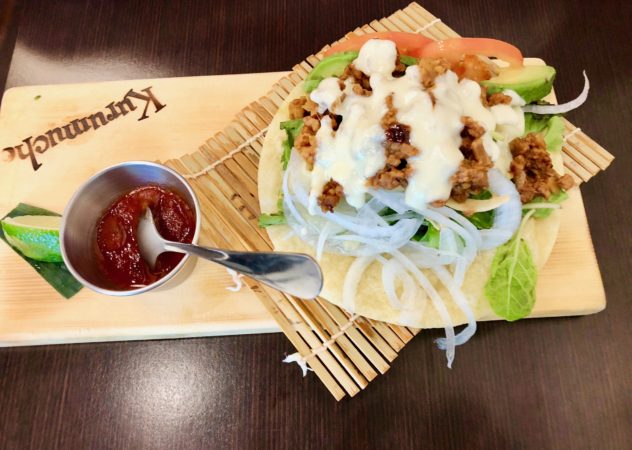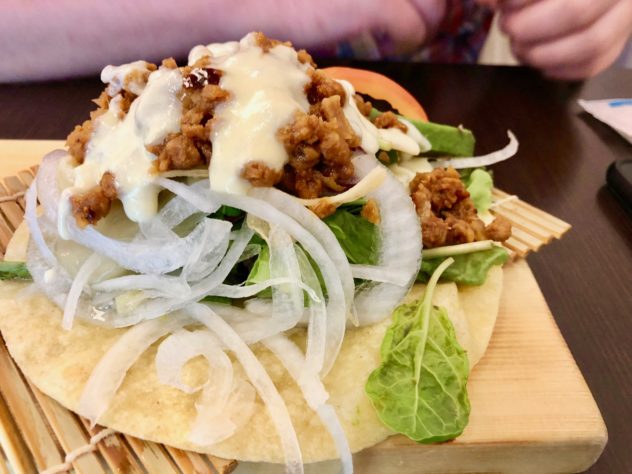 MEAT FREE GROUND BEEF TACO $6.95
Meat-free Ground Beef, Organic Spring Mix Lettuce, Organic Avocado, Tomato, White Onion, Pickled Ginger, Tortilla Chips with Vegetarian Sour Cream.
ADDRESS
985 Hornby St, Vancouver, BC V6Z 3G5
PHONE
(604) 428-3239
HOUR
MONDAY – SATURDAY 11:30 AM – 8:00 PM
SUNDAY CLOSED
WEBSITE
https://www.kurumucho.com/
Food

Service

Atmosphere

Cleanliness

Price (1Expensive to 5Cheap)