2018.02.10.  BREWSTERS
ADDRESS: 11 McKenzie Towne Ave SE, Calgary, AB T2Z 0S8
PHONE NUMBER: (403) 243-2739
OPERATION HOURS:
Monday 11:30 a.m. – 11:00 p.m.
Tuesday – Thursday 11:30 a.m. – 12:00 a.m.
Friday & Saturday 11:00 a.m. – 1:00 a.m.
Sunday 11:00 a.m. – 11:00 p.m.
WEBSITE: https://brewsters.ca/
Brewsters was founded by Michael Lanigan since 1989. It's original a beer company. The company combined beers to provide an outstanding dining experience to customers. There are 11 locations across the Alberta province.  We had a dinner at Brewsters last night.
Environment:
The location we've been is located at Mckenzie Towne Southeast Calgary, which is 10 mins away from our home. The restaurant is located inside the Mckenzie Towne community. There are many other restaurants around that area. We arrived the restaurant around 5 pm. Since it was still very early for the dinner time, the restaurant was not very busy. We walked in the restaurant, I could see there is a big sign at the front, wrote something like " Wherever you want to sit, take the seat". We got inside the restaurant and found the table by ourselves. The menu was on the side of each table.
Services:
After we sat down for few mins, our table server came to us and began to serve us the drink. She also introduced Today special to us, which was very helpful.  My boyfriend had today special 16oz beer and I had hot water with Lemon. About 4 or 5 mins, our drink came out. Later on, we began to order food for the main meal. The food came out the kitchen not very fast.
Food:
We have ordered calamari to share.  My boyfriend had the special Bavarian beef dip with yam fries and I ordered Pad Thai Stirfry. The Calamari was crispy and deep fried with cajun remoulade. The taste was decent. Bavarian beef dip was  Slow-roasted Alberta beef, white cheddar, horseradish aioli, Hammerhead beer mustard, caramelized onions, pretzel roll, and au jus. The whole dish looks yummy, but taste was so so. My Pad Thai Stirfry was Sweet & spicy sauce, chicken, tiger prawns, stir-fry mixed vegetables, roasted peanuts, cilantro, rice noodles. There were only three tiger prawns in my bowl. It was very small portions of food for me. The taste was fine. Nothing very excited
Prices:
The price of the food were very expensive with small portions. Calamari $13.99, Beef Dip $16.99, Thai Stirfry $18.99 and plus beers, tax, and tips. All in total, we spent around $70 for dinner.
In summary, Brewsters is a fancy local beef & dining restaurant. The taste of food and beer were decent. Just prices and portions were small.
MENU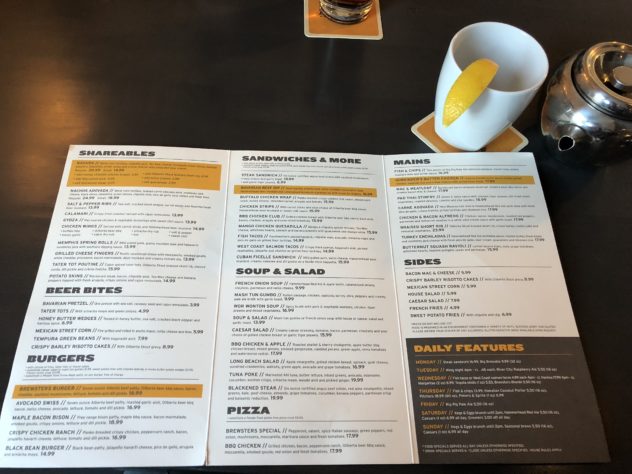 INSIDE MENU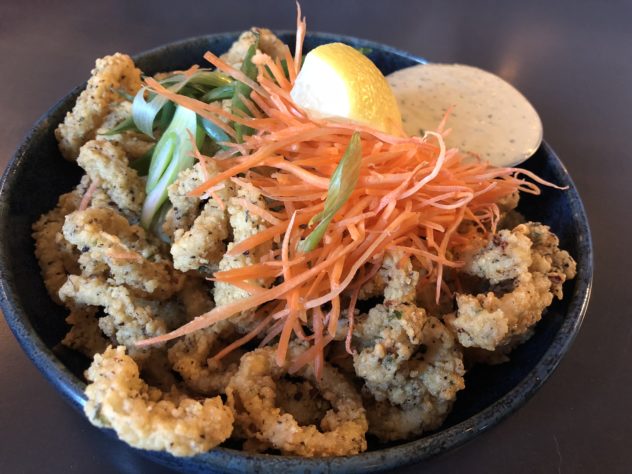 CALAMARI // Crispy fried calamari, cajun remoulade. 13.99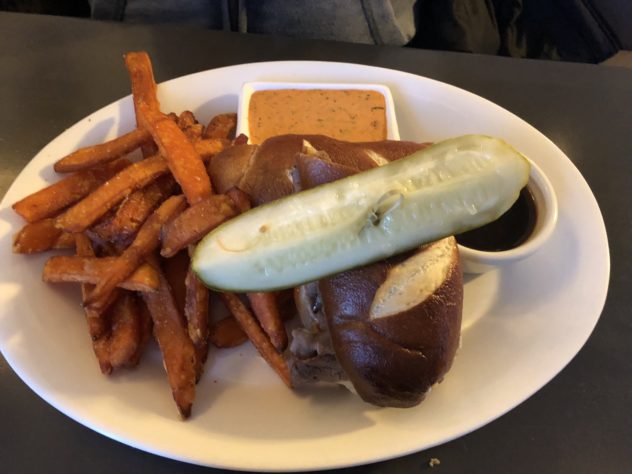 BAVARIAN BEEF DIP // Slow-roasted Alberta beef, white cheddar, horseradish aioli, Hammerhead beer mustard, caramelized onions, pretzel roll, au jus. 16.99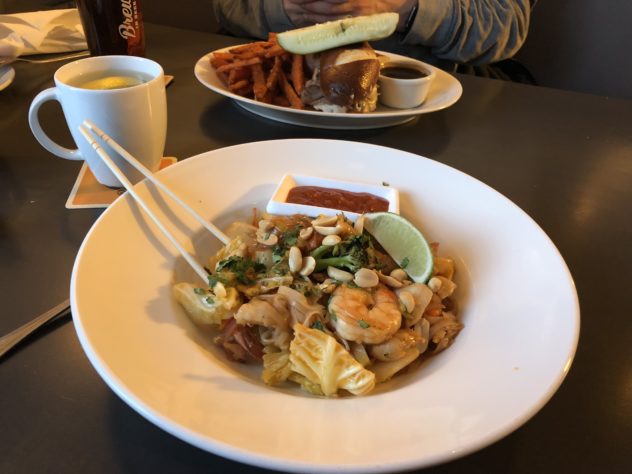 PAD THAI STIRFRY // Sweet & spicy sauce, chicken, tiger prawns, stir-fry mixed vegetables, roasted peanuts, cilantro, rice noodles. 18.99
Food

Service

Atmosphere

Cleanliness

Price (1Expensive to 5Cheap)