CHEF HUNG TAIWANESE BEEF NOODLE HOUSE
ADDRESS
9055 University High St Unit 109, Burnaby, BC V5A 0A7
PHONE
(604) 299-8548
HOURS
MONDAY – FRIDAY 11: 00 AM – 9:00 PM
SATURDAY & SUNDAY 11:30 AM – 9:00 PM
WEBSITE
http://chef-hung-taiwanese-beef-noodle.business.site/
May 3rd 2018, I went back to my old workplace on Burnaby Mountain to visit my co-workers. We had a nice lunch at Chef Hung Taiwanese Beef Noodle House together.
Chef Hung is a Taiwanese Beef Noodle Restaurant. It's famous for their signature noodle soup. It's very tasty and authentic It has five locations in the Great Vancouver area. I always went to its first location Aberdeen Center in Richmond, BC long times ago. Last year, Chef Hung opened its fifth location at Simon Fraser University, which was very convenient to all students there. When It just opened, it was a huge lineup everyday. It has been opened about the year. It was getting better, but it's still very busy. I think it's because of the small environment.
My friends and I, four of us, got to the restaurant around 12:30 pm. Inside the restaurant was busy. But, we were lucky. There was only one four-seat table left. We were very fast gotta the table and began to take a look at the menu.
Two of my friends ordered Seasonal Vegetable with Noodle in the Beef soup, Me and another friend had award-winning beef shank, tendon & trip with noodle soup. We all choose the flat noodles for our noodle bowls. Besides noodles, We also ordered Cold Mixed Kelp to share. All the food came out the kitchen fast and fresh. The soup was very hot and tasty. I love my award-winning beef shank, tendon & trip with noodle soup. All the beef in my soup were super soft and had special flavors. The cold mixed kelp was one of my favorite dishes at Chef Hung, but it was a very small portion. It was cold with unique Chinese Style flavor: Sweet and Sour, which made me couldn't stop eating it. I love its taste so much.
In summary, we had a nice experience eating at Chef Hung.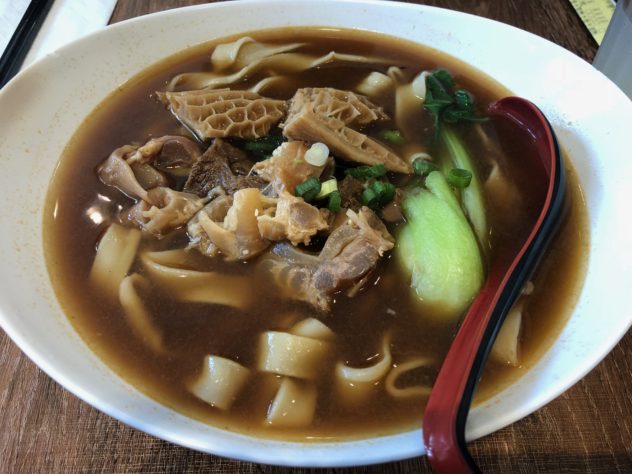 Award-winning beef shank, tendon & trip with noodle soup $12.45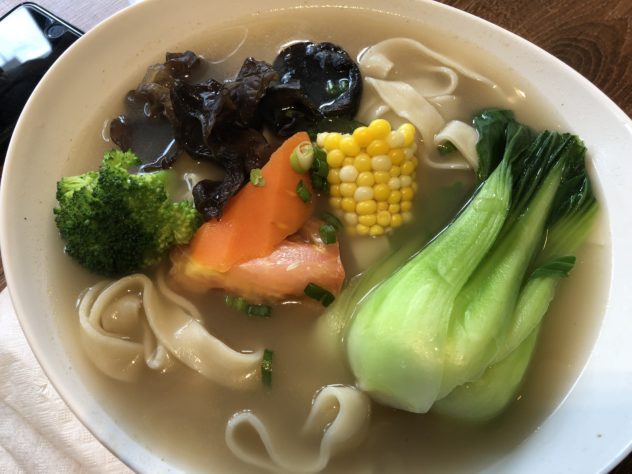 Seasonal Vegetable with Noodle in the Beef soup $9.45

cold mixed kelp $4.95
Food

Service

Atmosphere

Cleanliness

Price (1Expensive to 5Cheap)