2017.04.29. JINYA RAMEN BAR (Website/Menu)
RATING
Food 4.0/5.0
Service 4.5/5.0
Ambience 4.0/5.0
Price $$, $$$ depending on items you order

Address 541 Robson St, Vancouver, Vancouver, BC V6B 2B7
Phone number (604) 699-9377
Hours of operation
Monday – Sunday 11AM – 11PM
My friends and I had JinYa Ramen for dinner. We have arrived the restaurants at 4:30 pm. It was already big line up in front of the door. We had to left names on the waiting list first and waited for their text messages to come back to the line. The waiting time was like 45 mins, which was a bit of long. After I had received the text message from the restaurant, I got in the restaurant very fast.
The restaurant is included in two parts, such as restaurant and bar. It looks very fancy.
There are four of us, and we ordered Ramens, Beers and some small snacks to share. All the food came so fast. It's very excellent customer service.  All the food taste great and fresh.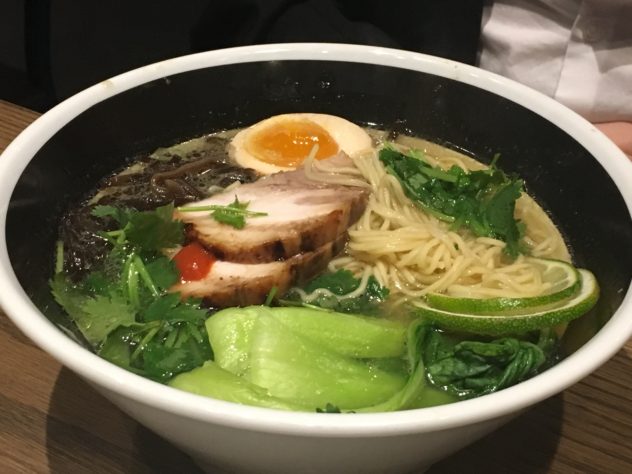 Chef's Special Reman: Slurp Up Cilantro  $11.50
Chicken clear broth: cilantro, pork chashu, kikurage, seasoned egg, lime, chili sauce with noodles.
JinYa Tonkotsu Black $13.00
Pork broth: pork chashu, kikurage, green onion, nori dried seaweed, seasoned egg, garlic chips, garlic oil, fried onion, spicy sauce with noodles. Although it has some spicy sauce, the soup taste normal, not spicy at all.
Sprouting Up Ramen $12.00
Pork and chicken broth: pork chashu, kikurage, spicy bean sprouts, green onion, half seasoned egg, crispy brussels sprouts, black pepper, ginger.
Takoyaki $5.80
It's Octopus balls: battered octopus over egg tarter topped with kewpie mayo, okonomiyaki sauce, fresh cut green onion and smoked bonito flakes. My boyfriend and I love Takoyaki so much. We are always to order this dish in different restaurants. They all tasted different from each other. After tried different restaurants, I think Takoyaki in JinYa Ramen is fresh, tasty, and authentic.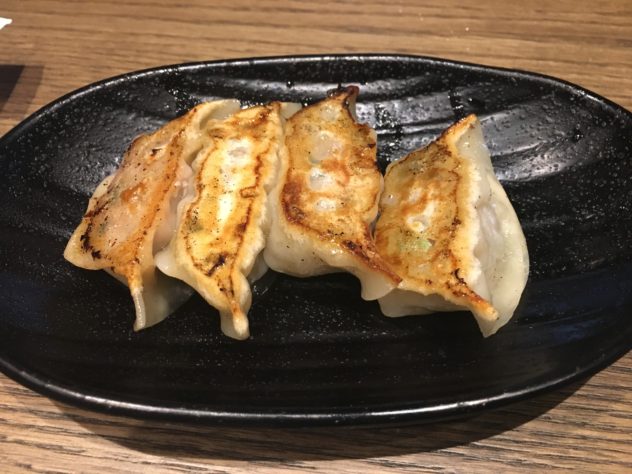 Pork Gyoza $5.80
Handmade pork dumplings, deep fried, taste is OK. It's a little bit over prices.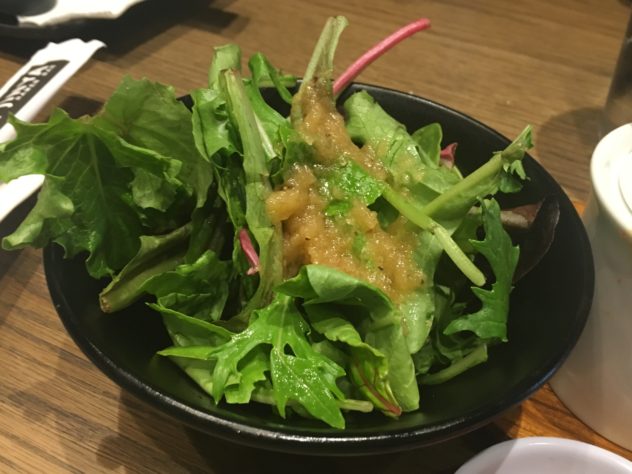 Baby Leaf Salad $4.00
Greens and tomatoes topped with Japanese house dressing.
Dip Sauces Free
There are three different dip sauces: Spicy, Japanese soy, and Garlic. The taste is very good when we mixed all three together.
Jinya Ramen Bar